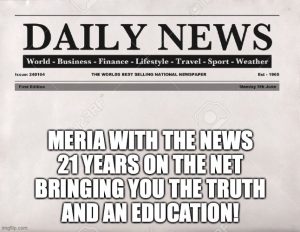 6/14/21 Meria With the News.
Chemical plant explodes in Illinois; China's nuclear leak; fires in Az; drought; trumps "deep state" spying on democrats & McGahn; protesters run over again; another huge settlement for bad cop; more insurrectionists arrested; Black Wall St or squalor? Netanyahu OUT, repeats all trumps lies; G7; death threats for election workers; trumpism and the airlines; more mass shootings; Az. gas chamber; Bill Barr & Sessions; $56,000 dementia drug; Ilhan Omar; Biden's nuclear spending; pipeline protests; inflation rises; Jill vs. Melania; Putin; abortion; headline news.
                                                           

21st  Year on the net!
Education you don't get anywhere else – commercial/censor free because of your subscription. Support truly independent media –. All downloadable.

Twenty first anniversary celebration of the Meria Heller Show!