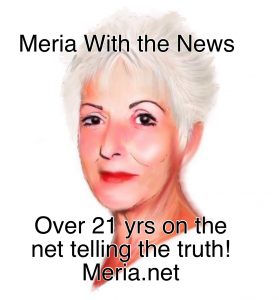 6/17/21 Meria With The News.
trump's deep State investigations on opponents; Putin & Biden; trumps jealousy; Michael Flynn; Supreme Court rulings; Obamacare here to stay; heat wave; power grid; Ojai; lawyers for trump in hot water; Juneteenth a Federal Holiday; John Bolton; anti trans laws; GOP member expelled; Israel bombs Gaza; Netanyahu refuses to leave; dangers of QAnon idiots; Texas vs teaching current events; Weisselberg; Reality Winner free after 5 yrs; Moscow Mitch; traitors in the GOP; National Monuments; gas chamber in Az; Joe Manchin; more hate crimes; karma; Breyer needs to step down; William Braddocks hit squad threats; headline news.
                                                           

21st  Year on the net!
Education you don't get anywhere else – commercial/censor free because of your subscription. Support truly independent media –. All downloadable.

Twenty first anniversary celebration of the Meria Heller Show!