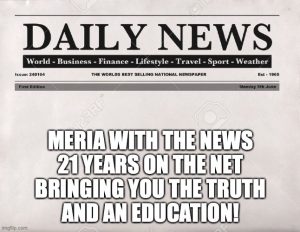 6/21/21 Meria With The News.
"Smart" thermostats fry Texas; paycheck to paycheck; Putin defends Biden's intelligence; Pelicans and wolves; Tucker is outed; trumps fathers day message; Bundy runs for Governor; got the shot, got the virus; big Tech vs. Floriduh; storms, fires, tornadoes, drought; Jan 6; stripping names off voter rolls; Myanmar; deaths by vehicles; Champ dies; Juneteenth; people quitting jobs; Gosar; Pence-traitor; Netanyahu; expired shots for Palestine; Netanyahu's big lie; Delta variant; worse drought in 1200 yrs; expand the Supreme Court; ditch Mitch; Candy Man Ronny Jackson; Obamacare;Bolivia; Brazil; vaccine passports? Church vs. Biden; Bernie; Magneto protein; trump rallies dash hopes of QAnon; headline news.
                                                           

21st  Year on the net!
Education you don't get anywhere else – commercial/censor free because of your subscription. Support truly independent media –. All downloadable.

Twenty first anniversary celebration of the Meria Heller Show!