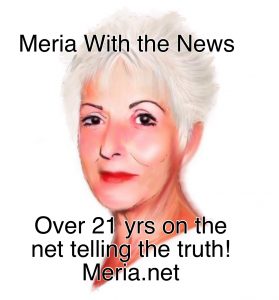 6/24/21 Meria With The News.
Guiliani's law license suspended; Investigate 1/6; another 761 remains found; voting debate; filibuster; Afghans; Biden to bolster police; climate change; Milley vs Gaetz; apt. bldg.collapses near Miami; Ivanka/Jared; DeJoy; police unions-soldiers at war with public; John McAfee dead; Airlines; birds dying across US; can't teach racism; anti protest bills; US seizes Iran news sites; vaccines & deaths; Kamala; yoga & QAnon? Supremes;HongKong; Khashoggi; BP & Coral reef; coup in Peru? Alabama; Sinema; rich saw huge wealth increase; trump sues NYC; trumps botched covid response; Duterte; RedneckRave or redneck rage? headline news.
                                                           

21st  Year on the net!
Education you don't get anywhere else – commercial/censor free because of your subscription. Support truly independent media –. All downloadable.

Twenty first anniversary celebration of the Meria Heller Show!