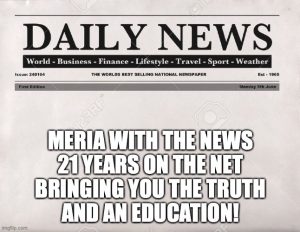 6/28/21 Meria With The News.
US airstrikes; Afghanistan; Delta corona; over a  million  damaged by vaccines worldwide; Chavin gets 22 1/2 yrs; Florida Condo collapses; heat wave; charges for trump Org; jail trump; trumps latest public therapy session; Bill Barr & Milley expose trump; reinstate pandemic unemployment; Iran; heart inflammation and vaccine; Digital covid pass? UFO's; Biden; Deb Haaland, bad ass; Justice Dept sues Georgia; 140,000 yr old skull found; Guiliani; trump wanted BLM shot; Pence; trump train sued; trumps deep state; crackpots in GOP; HAARP; GOP is fascist; lockdowns; Greg Abbott sued; food shortages; Bernie ROCKS; US cyberattacks on Venezuela; headline news.
                                                           

21st  Year on the net!
Education you don't get anywhere else – commercial/censor free because of your subscription. Support truly independent media –. All downloadable.

Twenty first anniversary celebration of the Meria Heller Show!