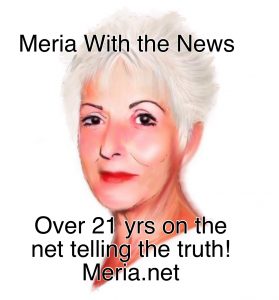 7/1/21 Meria With the News.
Trump CEO & Organization indicted; Bill Cosby released on technicality; Donald Rumsfeld dead; Liz Cheney on House committee; hate crimes rise; fireworks; Supreme Court votes against voting rights; latest on bldg collapse in Florida; Bill Gates, no saint; fake trees; trump donor buys national guard; Fauci; Tucker vs. NSA; coup plot of 1/6; Supremes vs.the States; heat waves; buyers refuse inflated home prices;US shuts down Iranian news site; California; Barr vs. trump; list of trumps legal troubles; Bernie; trumps lunacy; China's lunacy; masks; headline news.
                                                           

21st  Year on the net!
Education you don't get anywhere else – commercial/censor free because of your subscription. Support truly independent media –. All downloadable.

Twenty first anniversary celebration of the Meria Heller Show!