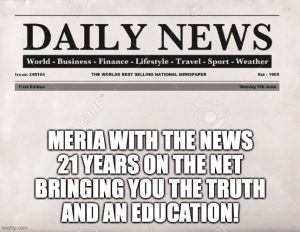 7/5/21 Meria With The News.
Florida condo; Peru's election; plane crash; Tyson recalls chicken; GETTR; ransomware attacks; pro golfer shot; grasshoppers; Delta variant; end the filibuster; rental aid? trumps tax fraud; MTG humiliated; China's weaponizing of specific viruses; heart inflammation warning; Afghanistan; Rumsfeld, the Pentagon, Aspartame; radioactive hybrid pigs; heat waves; fire in the Gulf; Weisselberg; federalizing local zoning laws; Exxon lobbyist and who they own in Congress; 850,000 jobs in June; Supreme Court; boy scout settlement; headline news; another mass grave in Canada; Merrick Garland; Bill Cosby.
                                                           

21st  Year on the net!
Education you don't get anywhere else – commercial/censor free because of your subscription. Support truly independent media –. All downloadable.

Twenty first anniversary celebration of the Meria Heller Show!