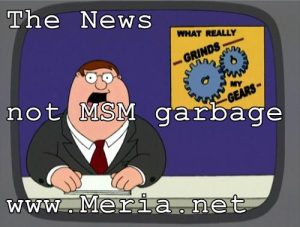 7/31/23 Meria With The News.
Russia; people crime; cop crime;  slavery was not beneficial; recalls; Illegal bio lab found in Reedley, Ca; RFK Jr on ethnically targeted bio weapons; Robert Chambers free; 2025; ticks & red meat allergies; Abbott & migrants; McConnell refuses to step down; Erdogan; more felonies for Don the Con; trump earned millions from Middle East while president; Fla. losing business; public defenders; Kim Jong Un; Netanyahu's govt worse than KKK; Manchin gets his pipeline while world boils; aliens?; headline news.
Education you don't get anywhere else – commercial/censor free because of your subscription. Support truly independent media –. All downloadable.