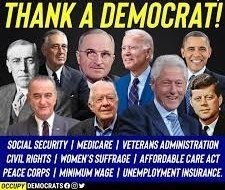 9/4/23 Meria With The News.
Labor Day; Jimmy Buffet, Mohamed Al Fayed, Steve Harwell dead; Russian on Tucker; forgotten Lahaina; Aliso Canyon; people crime; cop crime; insurrectionists get time; solitary confinement; useless EPA; stupid Alabama; televise ALL trumps trials; 14th Amendment; another glitch for Mitch; mass stabbing at Fulton Co Jail; KKK republicans; Nazis march for DeSantis; Vivek another idiot; killed for suspected shoplifting; "floaters"; genocidal Israel; Ecuador; headline news.
Education you don't get anywhere else – commercial/censor free because of your subscription. Support truly independent media –. All downloadable.