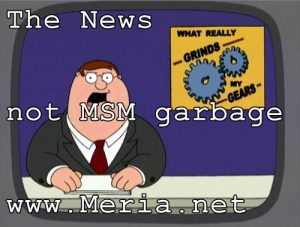 9/25/23 Meria With The News
The latest threats from the ex-Maniac-in-thief; Minn. Supreme Court to hear trump ballot challenge; 14th Amendment; trump supporters; Jimmy Carter makes an appearance; writers strike; Hillary on Putin; GOP is the party of Putin; Lahaina;Roe vs. Wade; 30 days vs 2 yrs; people crime; Biden to join picket line; Brazil; deals with the devil MBS; 1/2 of young people live with their parents; money for war; Robert Menendez; 265 sq ft for 3; 96 yr old judge; govt shutdown; Clarence Thomas; U.N.; ground zero deaths; Spy Lavrov; headline news.
Education you don't get anywhere else – commercial/censor free because of your subscription. Support truly independent media –. All downloadable.