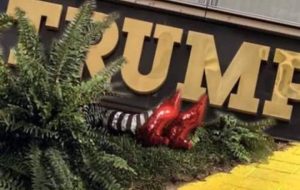 10/5/23 Meria With The News
School shooting at Morgan State University; trumps already violated his gag order; trumps lies and threats continue; Kevin McCarthy gone -soon the entire GOP; trump for speaker?; Amy Coney Barretts cult investigated by FBI; people crimes; remove Matt Gaetz; Biden to build wall for Texas; Elon Musk sued; John Kelly confirms trumps hatred of our military; Ukraine; Kosovo; Khashoggi; forever chemicals; airborne vaccines? Drew Weissman on danger of mRNA shots; bedbugs;Kaiser on strike; Pandemic planned in advance; psychosis and vaccine; Menendez; SCOTUS; drunk Rudy; extinction of amphibians; headline news.
Education you don't get anywhere else – commercial/censor free because of your subscription. Support truly independent media –. All downloadable.