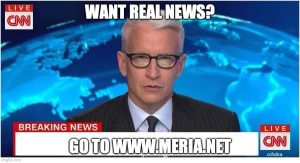 10/9/23 Meria With The News
Did Gaza really "surprise"Israel? the why's of the war; who benefits? Biden backs Netanyahu; Ukraine vs Palestine -what's the difference? self defense; trumps loose lips; question everything; 2nd front for WW3?; Iran denies aiding Hamas; protests; US cops training in Israel; Egypt says Israel ignored repeated warnings (like Bush on 9/11); trump blabbed nuclear secrets; Rudy & Mike go broke for trump; George Tyndall dead; Aileen Cannon protects trump; people crime; cop crime; Dick Butkus dead; Biden's border wall; SCOTUS; trumps tax fraud;India; lung float test; tourism resumes in W.Maui; QAnon queen threatens locals; headline news.
Education you don't get anywhere else – commercial/censor free because of your subscription. Support truly independent media –. All downloadable.