MERIA'S BOOKS: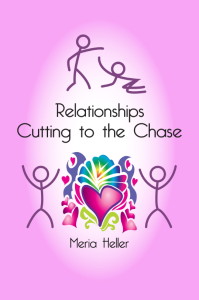 Relationships: Cutting to the Chase. by Meria Heller (c) 2013
                                                                                         (Foreward by David Icke)
After living over six decades and doing private consultations with people worldwide Meria has written an all-encompassing book on  relationships.
How to have a healthy relationship and increase your own personal happiness. This book tells you all you need to know to have a healthy relationship and the most important relationship you will ever have in your life.
Everything you need to know in under 70 pages! Meria feels this is her best book ever and EVERYONE you interact with should have a copy.
ENJOY THIS TALK GIVEN BY MERIA ON 9/22/13 ON RELATIONSHIPS – CLICK HERE.
Soft cover books only available in person and for Meria's students.

Reiki, East As 1, 2, 3 – Separating Ego From Reality Where Reiki Is Concerned.
Tired of all the clap trap and hoopla where Reiki is concerned? Meria has simplified it to make it easy for everyone to understand and use.  Thank you!
Now Available in EBook formats: html or PDF, your choice!
Great show with explanation of what Usui Reiki is on site – recorded 4/23/19.
Gosh Meria, your distant healing is extremely powerful! It was 8;30 this morning my time (that's 1;30am your time) when I felt a tingle. Actually it was more than a tingle – I felt my whole nervous system being soothed and healed. I was just on my way out but felt the need to lie on the sofa for half an hour before leaving when I felt the healing coming through. In fact I could have stayed there for a few hours..  I'll perhaps have to adjust my days to rest a bit in the mornings  if the effect of the healing continues to be so strong. At this rate I can see how I could pretty much be well within the next month!
In fact the session itself felt like a healing. And the good thing is I realised that I was healing myself by speaking to you my truth  which I was able to do because your energy resonated with that part of me which knows the truth and knows my power. So it was really healing for me to express that. I had forgotten the power of the Spirit to heal any physical dis-ease. And you reminded me. Thank you so much Meria.
with much appreciation for all your great work-Fiona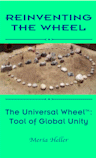 The Universal Wheel: Tool of Global Unity.
Problems everywhere – ALL the solutions RIGHT HERE. Simple spirituality and environment answers to all the world's problems. Easy, fun and powerful. Come dance the wheel. Get your copy/copies today! If you want to change the world, start with your own world first. There is nothing more powerful than working with and within a Universal Medicine Wheel.
 Available in EBook format, either HTML or PDF, you choose!
  Thank you!

I just finished reading your book and wanted to let you know how much I loved it! Thank you for sharing your insight with the rest of the world. I found the book exactly like you described, "like coming home." It is exactly what I needed in my life…I have created a wheel for myself and have been using it everyday for the past 7 days. The very first day I used it (1 week ago, last Saturday), I prayed for a permanent job. 30 minutes later, the phone rang and a company in scottsdale called me for an interview on Monday. The interview went so well but they said they wouldn't make a decision for a week. I was impatient and feeling discouraged but continued to pray for the job offer sooner. Tuesday morning, they called me and offered me the job…of course it was 30 minutes after I prayed at my wheel! Come to find out, they tried to call me Monday night but I didn't recognize the number and didn't answer the call! Anyway, I start my new permanent job this Wednesday and wanted to share the great news!I wanted to let you know that I adore you and your book! Thank you so much for sharing your experiences, your knowledge and shedding so much light on my life! When I read the part in your book about "searching for so long", I feel the same way! When I learned about the Universal Wheel, something inside me told me and felt as if "YES! I have come home!" -Victoria
The Thirteen Stones of the Universal Wheel Video/DVD.
Full length teaching video on the Universal Medicine Wheel and how to build one and work it. Shot on the beautiful Arizona Desert.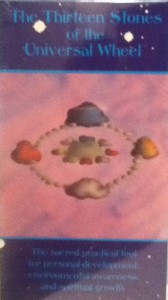 The Awakening Of An American: How My Country Broke My Heart
Waking up to real truth  can be a painful experience. This book makes it a whole lot easier!
Out of Print. 
Book Reviews by Meria are  listed on Book Review Page..
The opinions of my guests/authors are their opinions. I don't judge them, nor do I agree 100% – and neither should you. This is called freedom of speech and expression. You have the same freedom to agree or disagree with my views as well. This list goes to around 2010, the rest are listed in the actual interviews in the archives on site.