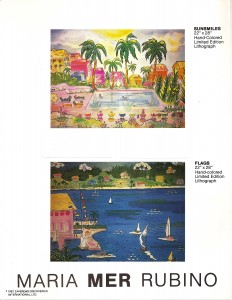 "Mer", the artist. I paint under my maiden name – Meria Rubino. Most of my friends call me Mer. I've chosen the pseudonym MER as my signature for me and the water I love to paint. I work primarily in watercolors for their soft transparent qualities as well as the bold colors the medium offers.  Guess I was born to be a Renaissance woman!
These lithographs were created back in 1987. "Sunsmiles" (top litho)and "Flags" (bottom litho) are unique as I hand painted atop each one something a little different to give them more value and distinction. They were both showcased in SunStorm Magazine, Sept 1987 issue. If you'd like to purchase either or both, they are $100 each plus $15 S/H (1988 prices). When they are sold out I will remove them from this site. They are 22″ x28″ and ready to frame. They are limited editions of 300. I'll be happy to personally inscribe each one of the back if you'd like.
I am completely self-taught which is what makes my palette and images so unique. My world travels are reflected in many of my pieces as well as my love of Native Americans and Native American spirituality.
In my "artist" days I designed fabric for children; paintings by commission and taught watercolor as well from NYC to Arizona. I am listed in the Encyclopedia of Living Artists in America 1988 edition. One year after picking up a paintbrush I had a One Woman Show in Soho, NYC at Rene's Gallery on Wooster Street. My works are in collections from American Express to private collections countrywide. My work has been shown at many galleries as well including Peri-Renneth, Southhampton, NY;Daruma Gallery,Cedarhurst, NY;Palma Art Gallery, Dix Hills, NY; and many others.
From my artist point of view "the world is depressing enough why  paint depressing images?" I want you to smile and be happy when you look at my work. Then I know I've succeeded.
Once you make payment, I will contact you for your shipping information. A healing every time you pass it! What a concept!
Original Art will be shipped at no extra cost to the Continental USA. If you are overseas the cost of shipping based on where you are will be billed before
shipping. As promised, these are still at 1989 prices. As I continue to paint new images, they will be posted.