PRIVATE TIME WITH MERIA! LET THE "COSMIC ALARM CLOCK" GET YOU STARTED ON THE LIFE YOU INTENDED!
Meria is available for one on one consultations via the telephone, Skype, or in person. Would you enjoy speaking with Meria for an hour or a half an hour? You can discuss anything going on in your life, the world or beyond. Meria mixes her intuition, business experience and life experience to be the best "intuitive" coach you can possible find.Meria considers herself a TEACHER first and foremost. She has taught Native American spirituality for close to 30 years now and is the Founder of the Universal Medicine Wheel. She has taught metaphysics in New York, Arizona and Europe too. Meria has been doing "readings" professionally since 1985. Meria uses her intuitive gifts daily to decipher the truth about what's going on in the world, which she presents here on The Meria Heller Show and has since July of 2000.
Meria works with people on a personal level, spiritual level and business level too! A natural born "psychic" Meria has a gift of vision beyond anything you've seen before. Her sessions are always confidential, loving, fun, and full of direction.
This is how it works: By arranging a consultation with Meria by going to Pay Pal and making payment of either $200 for an hour session, or $100 for a half hour session you are agreeing to open your Akashic Records to Meria. That means she can look into your own projected life path before you came into body for this time and space in your life and give you the direction/coaching to achieve what you came here to do. Meria can always warn you of anything you need to avoid. Health problems are also discussed. Meria uses her years of knowledge to help every individual realize their full potential and live the life they intended!
Sometimes there is a recent past life affecting this one. If that is the case Meria will clue you in on it and show you how to move past it, or use that part of yourself to be more than you already are!
All you'd need do is decide how much time you want with Meria, make payment through Pay Pal, Meria's account is Meria@Meria.net. Once the payment is made, Meria will contact you to set an appointment anywhere in the world. Meria has a vast audience and clientele worldwide. Many of Meria's clients have been clients for thirty years or more. Imagine the benefits of knowing beforehand where to invest your time, money and energy. Find out where you are on your spiritual journey.For those of you overseas, Meria is in Phoenix, Arizona, USA. That should help you figure out the time difference when making the appointment.
All sessions are totally interactive and Meria encourages you to write a list of questions to make sure you get all you wanted out of the experience. Sessions can be recorded as well.
Meria is highly recommended by many worldwide and you can read more testimonials of her work at www.MeriaHeller.com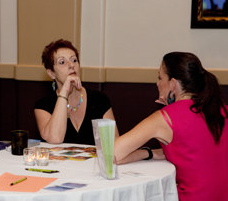 With all the BAD news in the world today from the oil spill, oil rain, recalls, suicides etc., thought it would be pleasant to post some HAPPY pics of HAPPY people. Why are they happy? Because they attended my Summer Solstice Universal Medicine Wheel on the beautiful Arizona desert. We connected under a late day Sun, early Moon and the beautiful dirt of Mother Earth! Look at the smiles on everyone's faces – there's a reason. As I always say on the show "the only ticket out of the madness is a spiritual one". Hopefully you are staying strong in your own spiritual journey of choice to stay balanced in a world that seems to have gone mad!
The Universal Medicine Wheel
What happiness looks like!
You were born deserving of all the abundance every other living thing in nature experiences. If you're not living a life of joy -have big decisions to make – or simply want to chat – book an appointment with Meria. You won't be dissatisfied.
Here's some recent feedback:
"You are a true philosopher and therapist, perhaps the best I've ever encountered" – Barry S.
"From the depth of my soul, I have no words to describe how grateful I am for all that you are and all that you have done for me" – Karen J.
"You took me out of the mud and now I'm walking on air" – Laurie B.
Remember you are not alone and you are here for a GOOD time, not a long time. If that's not the case, set up an appointment and get started on the
most exciting part of your life!