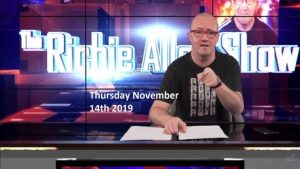 11/15/19 Meria with Richie Allen, broadcaster. Fabulous show with Richie. Start off with some fun topics: Ben Portsmouth – Elvis – Motown; Weird Scenes Inside the Canyon by Dave McGowan; real history; The East India Tea Company; Columbus; we are peppered with lies and false history from birth; 6 Corps. run all media leaving good authors in the lurch; Markle & Harry; James Hewitt; Prince Charles & Jimmy Savile; Prince Andrew & Jeffrey Epstein; The "Queen"; ABC/Royals/Epstein; Gideon Bull and anti-semitism hysteria; Bernie Sanders; Hillary & Boris and much more.
                                                           

20th Year on the net!
Education you don't get anywhere else – commercial/censor free because of your subscription. Support truly independent media –. All downloadable.