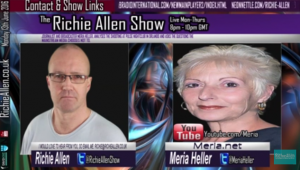 3/19/21 Meria with Richie Allen.
Richie Allen of the Richie Allen Show, UK joins Meria today. What's up with the Royal family? Harry & Meagan; Piers Morgan; Prince Phillip, racist? Princess Diana's murder; the film "Unlawful Killing"; James Hewitt & Harry; how does the UK press cover Biden? the violence on Asian Americans, UK too? their view of our system of justice; Biden & Putin; trumps bogus promises and Richie's article on it "The Only People With Trump Derangement Syndrome"; Police state in UK; vaccines; Andrew Wakefield; fake "broadcasters" and more.
                                                           

21st  Year on the net!
Education you don't get anywhere else – commercial/censor free because of your subscription. Support truly independent media –. All downloadable.

Twenty first anniversary celebration of the Meria Heller Show!