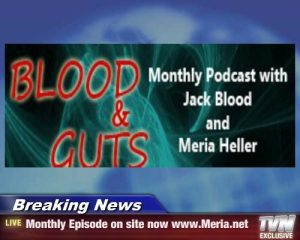 6/30/20 Blood & Guts, with Meria & Jack Blood.
Coronavirus vs. Covid19; back in the 90's people said we were crazy; 9/11/01; PNAC; people prove easy to control; surveilling yourself; defund the police; CHAZ in Seattle; George Floyd; trump losing it; Bush on 9/11; too late for trump to drop out; new shut-downs; Texas; Biden & neo-liberals; where is Biden; Bernie & Andrew Yang; Crosscheck; voter suppression; Wall St  & Drug Co's; The Shock Doctrine; Bill Gates; vaccines; black swan disasters; school; protests; St.Louis; Gangs of New York; cultural revolution; Barr/Epstein; Russian bounties and more.
                                                           

20th Year on the net!
Education you don't get anywhere else – commercial/censor free because of your subscription. Support truly independent media –. All downloadable.