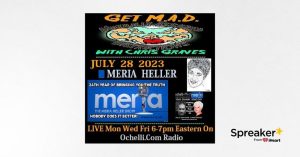 Get M A D with Chris Graves and Meria Heller
7/28/23 On this episode of Get M.A.D. with yours truly, I chat with the legendary Meria Heller, the Mouth That Roars!
Meria was one of the first to have an internet radio show, or webcast, going back to the year 2000, years before
a "podcast" would become a household word. We talk about many things including the late, great Dave McGowan,
the show they did together for many years "Send In The Clowns" (which is still available at Meria.net), her take on
the sad state of our world, the climate, cancer cures, Diabetes, RFK Jr., the Covid pandemic,
her stand up comedy, and the recent laughable "UFO/Alien Disclosure" in the news. Enjoy!
Education you don't get anywhere else – commercial/censor free because of your subscription. Support truly independent media –. All downloadable.