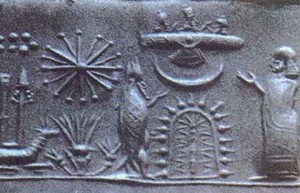 11/1/11  Meria interviews author Aaron Kaplan on his book "Deep Analysis, Frightening Conclusion". Aaron is a former 35 yr employee of the aerospace/aircraft industry as well as an author. Long time student of UFOlogy Aaron has written quite the controversial book. The bigger story of Roswell; govt manipulation of truth; what do they know about 2012? multiple crashes at Roswell; who were they? DNA; Nephilim; the Bible as a history book; Grays? are they real? what are they? Book of Enoch; shape shifters/angels; Niburu; Elenin; Noah, a hybrid; Fatima Prophecy #3 – Lucifer is God; Gamma G barrier and trapped Nephilim; return of the Annunaki 12/21/12 or earlier? Uranium 235 during WW2? why 1000 nuke tests in Nevada? Dead Sea Scrolls; the Vatican's power over everything and the SIV stamp; it's not a "mayan" calendar; Marduk & Thoth; black mass of gravity heading towards Earth? why did they kill the SETI project? the Lacross mission; abductions; Ishtar – the Goddess; Mars (Tiamat); the Spear of Destiny; Iraq – Hussein- Stargates; antiquities; why did we invade Grenada, what was found there? Operation "Urgent Fury"; the Nazi's and the Nephilim and much more.
** Take this show with an open mind and discernment. Due to material this show is ninety minutes.
---
"We all heard of the crash at Roswell, and most of us heard
and read regarding the subject of alien abductions in one form
or another. For many of us who attended Bible study or religious
schools, we learned of the fallen angels, which sometimes are
referred to as the "Nefilim." We learned about Noah's ark, Moses
and his brother, and spokesman, Aaron, and the pyramids. And in
the twentieth century, we all know about the two atomic bombs,
one that was dropped over Hiroshima and the other dropped over
Nagasaki in Japan at the end of World War II.
But until you read in simple English, without using any fancy
math formulas to confuse you, until you read this book, you'll never
know the truth, the plain truth as it occurred, and now as I see it,
after I interpreted certain records, including some parts of the Bible
that allegedly may be—I repeat, may be—incomplete, due to missing
information that we must now be aware of and need to know.
To write this book, I researched many sources of information;
read the works of such great writers such as Zecharia Sitchin, Michael
Tsarion, Glenn Kimball, Lynn Marzulli, Patric Heron, and more;
reviewed all the records available to me from other numerous books
and many Internet sites, television shows; and from listening to many
very popular midnight radio talk shows."