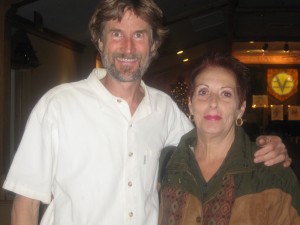 3/13/13 Meria interviews Will Tuttle, author, composer, musician on his latest DVD "Conscious Eating, the Power of Our Food Choices" and his fabulous book "The World Peace Diet, Eating for Spiritual Health and Social Harmony". compassion for animals and humans; horsemeat instead of "beef"; on the menu; the hypocrisy of our actions which are based on cultural programming; spiritual disconnection and discrimination; what about fish? plants? Losing an acre a SECOND of the Amazon; not harming but cultivating plant life; eating negative energy; we are infinite consciousness; the inter-connectedness and inter-dependence of all living things; the Mediterranean diet; cancers and meat; the energy of eating death; Meria's "disclaimer"; are they your food choices or are you following orders? the roots of freedom and slavery; "no meat, no heat" – Taiwan; is going vegan expensive? Check out www.goveg.com; we need a revolution of compassion; importance of spirituality and more.
For less than 50 cents a day you support real media, get educated and have total access to site 24/7. Please subscribe today.
---
Food is our most intimate and telling connection both with the living natural order and with our living cultural heritage. By eating the plants and animals of our earth, we literally incorporate them. It is also through this act of eating that we partake of our culture's values and paradigms at the most primal levels. It is becoming increasingly obvious, however, that the choices we make about our food are leading to environmental degradation, enormous human health problems, and unimaginable cruelty toward our fellow creatures.

Incorporating systems theory, teachings from mythology and religions, and the human sciences, The World Peace Diet presents the outlines of a more empowering understanding of our world, based on a comprehension of the far-reaching implications of our food choices and the worldview those choices reflect and mandate. The author offers a set of universal principles for all people of conscience, from any religious tradition, that they can follow to reconnect with what we are eating, what was required to get it on our plate, and what happens after it leaves our plates.

The World Peace Diet suggests how we as a species might move our consciousness forward so that we can be more free, more intelligent, more loving, and happier in the choices we make.