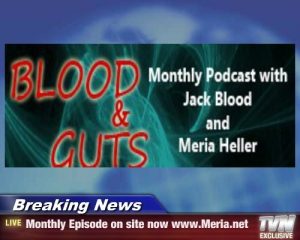 3/31/20 Blood & Guts, with Meria and Jack Blood.
Jack's back after 3 yrs! Jack and Meria have worked together for 22 years; from the stolen election of 2000 to the police state coronavirus we leave nothing out. The economic crash of 2007 and today – Black Swan; the shut down of the planet; depopulation agenda? bioweapon? trump derangement syndrome; psyop; Bernie; Biden; Pelosi/Schumer; you don't vote for president; strikes worldwide pre-coronavirus; medical martial law; Habeas Corpus; losing rights usually permanent; C.O.G.; Rex84; Oct 2019 exercise; cover up for bank bailouts; who benefits; Dr.Francis Boyle; "Lockstep"; checks & balances gone; ideas; check out Jack Blood News on f/b.
                                                           

20th Year on the net!
Education you don't get anywhere else – commercial/censor free because of your subscription. Support truly independent media –. All downloadable.