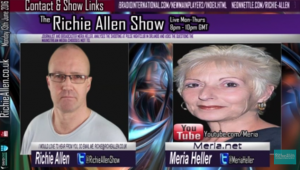 6/26/20 Meria and Richie Allen!
The heat wave in Europe; the stabbings in Glasgow; climate is changing; Nigel,Farage; the anti-semitism hook; race baiting; minorities are not the problem; identity politics; divide and conquer; Jeremy Corbin; Statues over real lives; trumps hypocrisy; coronavirus; Black Lives Matter; corporations; cell phone addiction/tracking; trans humanism and more.
                                                           

20th Year on the net!
Education you don't get anywhere else – commercial/censor free because of your subscription. Support truly independent media –. All downloadable.