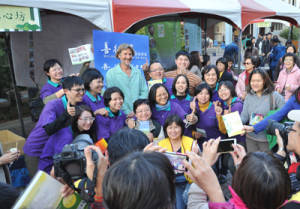 3/18/14 Meria With Will Tuttle on The World Peace Diet. Will's recent tours in Australia, New Zealand and Taiwan. Thousands in Taiwan, a vegetarian island; meat free school lunches; vegan hospitals; Buddhists and vegetarianism; the difference between American and Taiwanese reactions; former Zen Monk; Imagine 42 years without seeing a doctor; no shame, no blame; cultural training; agricultural lobbies; humanity awakening? babies intuition where food is concerned; ethnic groups and the American diet; The China Study by Dr.Colin Campbell; The World Peace Diet now in MANY different languages; The Empty Cages Award; the suffering of animals by human hands is the core issue of our problems; spiritual connection to what we eat; eating sunshine; eating the fruits of the plant world; 1 acre per second of rainforest disappearing; the bees and agriculture and so much more. Enjoy the video of Will's presentation here.
No advertising, government or corporate funding/censorship. Your subscription gives you total access to site 24/7. Thank you.
---
Food is our most intimate and telling connection both with the living natural order and with our living cultural heritage. By eating the plants and animals of our earth, we literally incorporate them. It is also through this act of eating that we partake of our culture's values and paradigms at the most primal levels. It is becoming increasingly obvious, however, that the choices we make about our food are leading to environmental degradation, enormous human health problems, and unimaginable cruelty toward our fellow creatures.

Incorporating systems theory, teachings from mythology and religions, and the human sciences, The World Peace Diet presents the outlines of a more empowering understanding of our world, based on a comprehension of the far-reaching implications of our food choices and the worldview those choices reflect and mandate. The author offers a set of universal principles for all people of conscience, from any religious tradition, that they can follow to reconnect with what we are eating, what was required to get it on our plate, and what happens after it leaves our plates.

The World Peace Diet suggests how we as a species might move our consciousness forward so that we can be more free, more intelligent, more loving, and happier in the choices we make.