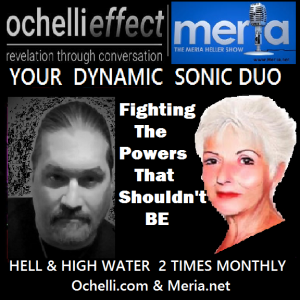 4/27/21 Hell & High Water, with Meria & Chuck Ochelli.
Trust your inner voice; Larry Kudlow and beer; your burgers; the American diet and American diseases; Kevin Trudeau (archives); Santorum's ignorance on Native Americans; lack of education killing us; WASPs; Marjorie Taylor Greene; Lynching laws; Emmet Till; was the census correct? trans people are people; racism; population slowdown; news laws to crash into protesters; the Senate doesn't represent the people; lots of topics discussed today.
                                                           

21st  Year on the net!
Education you don't get anywhere else – commercial/censor free because of your subscription. Support truly independent media –. All downloadable.

Twenty first anniversary celebration of the Meria Heller Show!