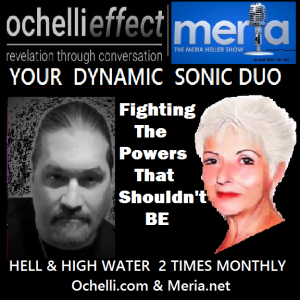 6/8/21 Hell & High Water, with Meria and Chuck Ochelli.
Chuck celebrates his 2,000th show; pants on backwards or on fire? Q and trumps "reinstatement"; Biden's national voting law; Manchin; Biden's DOJ defending trump? Merrick Garland and Oklahoma City; the system protects itself; the filibuster -tool of obstruction; back to paper? Bernie; Israel; Kamala Harris; same political lies and promises; free vaccine? free milk; GOP on investigation of Capitol insurrection; Gay Pride Month & DeSantis; Kaitlen Jenner; labels; trump is the disease and a symptom and lots more.
                                                           

21st  Year on the net!
Education you don't get anywhere else – commercial/censor free because of your subscription. Support truly independent media –. All downloadable.

Twenty first anniversary celebration of the Meria Heller Show!