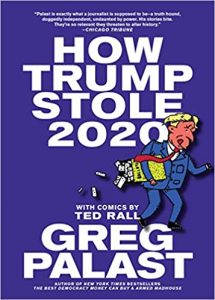 7/22/20 Meria With Greg Palast – How Trump Stole 2020.
Greg Palast, investigative reporter, guest on the show since 2000 returns with his latest MUST READ book "How Trump Stole 2020". He gives loads of SOLUTIONS to steal our votes BACK. How trump stole 2016; this is not a prediction but a call to arms; George W. stole 2000; expanded sophisticated methods today; apartheid elections; ending the purge; 16.7 Million purged; check your registration and vote; mail in votes; gerrymandering; Kemp vs. Abrams; rise of Kim Crow; Kris Kobach-KKK; Supreme Court's poll tax and more.
                                                           

21st  Year on the net!
Education you don't get anywhere else – commercial/censor free because of your subscription. Support truly independent media –. All downloadable.

Twenty first anniversary celebration of the Meria Heller Show!