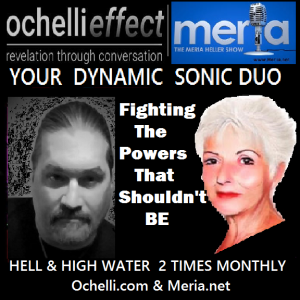 4/13/21 Hell & High Water with Meria and Chuck Ochelli.
the movie 2012 and Woody's part; Earth is angry; solutions; "Alcohol Can Be A Gas"-David Blume (in archives); Has the USA's karma come home to roost? moral leadership? racism; lack of the sacred; humans circling the drain; Johnson & Johnson; "Dr.Mary's Monkey"-Ed Haslam (in archives); 9/11 and Afghanistan (google Sept. 11); Ramsey Clark; JFK and the players; the illegal wars of George W Bush; Iran and Israel (US quiet); inflation; costs of living rising; trump; George Floyd trial and lots more.
                                                           

21st  Year on the net!
Education you don't get anywhere else – commercial/censor free because of your subscription. Support truly independent media –. All downloadable.

Twenty first anniversary celebration of the Meria Heller Show!