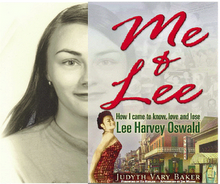 2/28/13 Meria interviews Judyth Vary Baker, on her excellent book "Me & Lee, How I came to know, love and lose Lee Harvey Oswald". Did Lee Harvey Oswald kill JFK or was he a true American patriot? Lee was loyal, dual agent – they knew he wouldn't talk and was indeed set up as a "patsy"; Lee was close to genius, Judyth a scientist with an IQ of 160; Book was written in 1999 and published in 2010 – why did she wait so long? It's the missing link in the matrix; Judyth was granted political asylum along with her service dog; What this has cost her; the movie "JFK"; "911 wouldn't have happened without JFK's assassination"; the people working on the cancer-bioweapon to kill Castro; Hugo Chavez; The players: Jack Ruby, David Ferrie, Lee Oswald, Dr.Mary Sherman,Dr.Ochsner, Judyth, Clay Shaw and more; "truthtellers find each other"; Judyth was an innocent of 19 when she met Lee; the cure for cancer; Carlos Marcello; why did they kill JFK? Did Jack Ruby & Lee Oswald know each other? Did they kill Ruby with cancer? who paid Lee? Judyth's been in hiding ever since with her life in danger; the History Channel and LBJ, Jack Valenti & Lady Bird Johnson; and much more. Meria HIGHLY recommends EVERYONE read this book.
Your subscription gives you total access to the site 24/7. Be in the know and wake up! Subscribe today.
---
Judyth Vary was once a promising science student who dreamed of finding a cure for cancer; this exposé is her account of how she strayed from a path of mainstream scholarship at the University of Florida to a life of espionage in New Orleans with Lee Harvey Oswald. In her narrative she offers extensive documentation on how she came to be a cancer expert at such a young age, the personalities who urged her to relocate to New Orleans, and what led to her involvement in the development of a biological weapon that Oswald was to smuggle into Cuba to eliminate Fidel Castro. Details on what she knew of Kennedy's impending assassination, her conversations with Oswald as late as two days before the killing, and her belief that Oswald was a deep-cover intelligence agent who was framed for an assassination he was actually trying to prevent, are also revealed.